---
---
Owen Sound Hockey Heritage
Owen Sound Hockey Heritage 
Owen Sound Hockey Heritage stretches from rural farmhouses on Saturday night to backyard rinks to cheering for local hockey successes and hockey heroes.
Recently, I visited the Hockey Hall of Fame to research an article on Owen Sound-product and Toronto Maple Leaf great, Hap Day. 
As I drove home that day, I reflected upon the impact that hockey has on the lives of Canadians. Hockey is more than a form of entertainment. For many of us, it is an intrinsic part of being Canadian. 
Early newspapers reported the scores of hockey games between neighbouring communities. Victories boosted community pride and the players on home town teams were heroes. Old diaries and interviews with those of the senior generation paint a picture of -men and boys skating for hours on frozen rivers, lakes and inlets. 

The advent of radio provided hockey as another form of entertainment during the snowy winters of Grey and Bruce. My mother remembers Saturday nights when neighbours would arrive in their horse and cutters to their Allenford-area farm. 

The men would huddle around the radio and listen to Foster Hewitt, while 'the women would chat in the kitchen making sandwiches and tea. After the game, while refreshments were being served, conversation focused not only on the game, but also local hockey activities. A scene repeated in farm houses all across Canada. 

As a young boy growing up in Owen Sound, some of my fondest memories are of getting up early before school and clumping in my skates down to the rink that my friends and I had so carefully, with the help of our fathers, packed and flooded. 

On weekdays, we would play hockey before and after school. On weekends, we would often skate from early morning until our parents dragged us home, often at 9 or 10 in the evening. As we played, we tried to emulate our heroes. 

While most of us played hockey, few made it to the National Hockey League. When our personal aspirations for hockey stardom faded, we lived our dreams through our heroes. We followed them through newspaper reports, on the radio, and on television. When a local boy made it to the NHL, there was a sense of pride in having known him, no matter how remote the connection.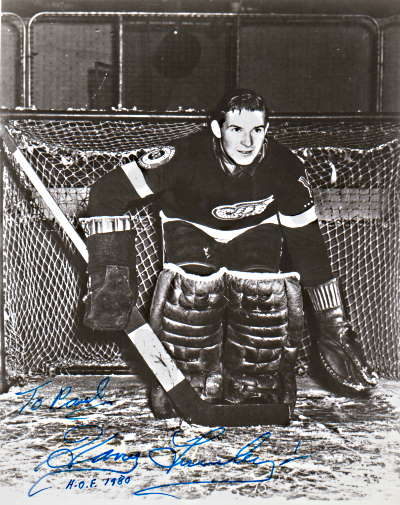 Harry Lumley HHoF
Paul White Collection
In this area, every generation has had its own local hero. For my grandfather, it was Fred "Cyclone" Taylor from Tara; my father cheered for Owen Sound's Harry Lumley. Mine were Bruce County's Paul Henderson and Jim Schoenfeld, who once played with the Owen Sound Greys. These are but four of the many who left the Grey-Bruce area to play professional hockey. 

Perhaps it was home-town pride, but I just knew that the Grey-Bruce area had made an important contribution to the game of hockey. When I called Craig Campbell Resource Centre Manager at the Hockey Hall of Fame, he suggested that I pay a visit and look around. 

At the first display that I visited, The Year in Review, Owen Sound was represented by Plater goalie Jamie Storr whose mask from the 1995 Canadian gold medal world junior championship team was on display. In this exhibit, there were mementos from all the 1995 international and national hockey champions. 

Jamie Storr World Junior Champion
Paul White Collection
Next, I stopped at the North American Hockey Zone computer. Here, you enter a community name and the screen shows pictures of teams and individuals from that vicinity. Unfortunately, the Grey-Bruce area was missing from the computer's memory bank. How could such a hockey haven be missing from the Hockey Hall of Fame? I was told that this was a service which required someone from each town to collect the information and pay a $25 fee to the Hall. 

Undeterred, I went to the trophy category in the computer and, sure enough, Owen Sound was well represented. There were pictures and descriptions of the 1924 and 1927 Calder Cup champion Owen Sound Greys. In the Allan Cup division, I found the 1951 Owen Sound Mercurys featuring players such as Buck Forslund, Tom Burlington and Les Binkley. 
There were many other displays to absorb hockey enthusiasts, but two had direct interest to those of us from the Grey-Bruce area. Paul Henderson, hero of the 1972 Canada-Russia series, had his stick which scored the goal "heard around the world" and his jersey as the focal point of one display. 

There was a special display honouring Taylor, King Clancy and Howie Morenz. This tribute included sticks, photos and other memorabilia of these three hockey legends. 

Next stop on the tour was the Bell Great Hall, the sanctuary dedicated to the very best that the game has known. 

In the trophy winners' category, I found 1953-54 Vezina Trophy winner Harry Lumley. Another trophy winner was 1962-63 Calder Trophy winner for rookie of the year, Kent Douglas. Although Douglas is not from Owen Sound, he did play for the 1956-57 Owen Sound Mercurys. 

In the inner-sanctum of the room, I found the plaques of those considered to be the greatest ever to play the game of hockey, the elected members of the Hockey Hall of Fame. 
Here I found the plaques detailing the careers and achievements of Taylor, Lumley and Day. Campbell asked me if I would like to see the archive's usually off-limits storage vaults. 
Upon entering I was awestruck. I found rows of jerseys, equipment and other memorabilia — a Stratford Kroehler jacket donated by adopted Owen Sounder Red Leckie and a 1991-92 Platers jersey owned by Jason Buetow. Space is limited in the main Hall, so some displays are rotated in and out of storage, Campbell explained. 

As I drove home that day, I was struck by the fact that the Grey-Bruce region is indeed well-represented in the Hockey Hall of Fame. I considered who might be the next player from this area to be honoured. 

Some things never change in the game of hockey. Youngsters will always dream of making it to the big league and the not so young will always talk about their memories of current big leaguers when they were kids. Hockey is indeed a Canadian way of life and the Grey-Bruce region has made a significant impact on the world of hockey. 

I would like to thank Ted Briggs, former sports editor of the Sun Times for sharing his wealth of knowledge about Owen Sound hockey history. 

A version of this article originally appeared in my Local History column in the Owen Sound Sun Times on February 3, 1996.
More Great Information Pages
About Owen Sound Hockey History
The 1920s Owen Sound Hockey Stars made there mark in amateur ranks and then many of them went on to careers in the NHL and other professional hockey leagues.
The 1927 Owen Sound Greys with a priest serving as coach named Jack Spratt and not one experienced defenseman were an unlikely Canadian National Hockey Championship team.

Benny Grant: Memorial Cup Champ grew up in Owen Sound and enjoyed a hockey career, which included a surprising turn of events that led to a stint in the NHL.

"Buck" Jones, like most Canadian boys, dreamed of playing in the NHL. Little did he realize that one day he would wear the sweater of an NHL club and would be the idol of youngsters like himself!
The Chin Brothers dominated in their hockey league which drew attention from the Detroit Red Wings and the Toronto Maple Leafs.

Ralph "Cooney" Weiland skated from a Memorial Cup championship in Owen Sound, to a Stanley Cup in Boston to fame as a U.S. college hockey coach.
The Crescent Club has a long history of sponsoring sports teams and leagues in Owen Sound providing consistent management and financial assistance to athletics.
"Cyclone" Taylor was hockey's first superstar. Born in Tara Ontario, he was involved in a controversy in Ottawa which still has not been resolved.

Doug Brindley: From Maple Draft Choice to a role in Slap Shot: a Memorial Cup champ; coached by Don Cherry; and he played in the WHA; what more could a Walkerton Ontario native ask for in a hockey career?
The Durham Yellowjackets hockey team was a force to be reckoned with in Ontario Intermediate hockey in the 1930s.

Goalie "Red" Henry: An All-Star Netminder: Another great Owen Sound goalie who played for the love of the game.

"Hap" Day was a Hall of Fame hockey player, coach and general manager as well as a life-long Toronto Maple Leaf.
Norm Locking Chicago Black Hawks & Former Owen Sound Grey was known for his hard and deadly shot in Al Capone's Chicago.

Harry Lumley spent his Hall of Fame hockey career tending the nets for four NHL clubs and he spent one period of a hockey game goaltending for a fifth NHL team.
Henry Kelso: Owen Sound Sports Legend not only contributed to the sporting life of his students, he also had a significant influence on the rest of their lives.
Junior Hockey Commentary: Should there be controversy about the use of non-local hockey players? This article was written in 1998 in response to a letter to the editor in the Owen Sound Sun Times.
Meaford Knights Hockey: The 1953-54 Championship Knights' line-up had of several pairs of brothers. Many felt that the brothers made a winning difference.

Newspaper Sports: Owen Sound Hockey History was detailed in the pages of the Owen Sound Sun Times in detail in the days before the radio and television eras.
Owen Sound Hockey's early history some references suggest started in the 1880s. However there are records of organized hockey teams beginning in the early 1900s.

Owen Sound was a Hockey Hotbed in 1950-51: Their fans were hockey crazy during this OHA Senior A Championship season as their star-studded team marched to an Allan Cup victory.

The 1959-60 Owen Sound Greys: A Tough Act to Follow: Tragedy struck this hockey team of young men, yet they persevered.

The 1960s Owen Sound Greys Stars who went on to NHL action including Brian Perry, Doug Brindley, Jim Schoenfeld, and Jack Lynch brought Owen Sound a reputation as a hockey hotbed!
Owen Sound Attack: The arrival of this new OHL team is the latest chapter in the Owen Sound region's rich hockey history.

Owen Sound Goalies: Why does Owen Sound produce so many fine goaltenders? There must be something in the water! 
Some Great Owen Sound Greys. The history of this hockey team is a story of players who were not only local boys, but came from many locations to hone their skills.
Owen Sound Hockey Heritage stretches from rural farmhouses on Saturday night to backyard rinks to cheering for local hockey successes and hockey heroes.

Owen Sound Junior Hockey History began almost one hundred and twenty years ago and is rich with championship teams, great players, and dedicated fans. 
Owen Sound's New Arena in 1938 opened a new era in Grey and Bruce counties with the first artificial ice making machine in western Ontario north of Kitchener.
Owen Sound Platers: Ray McKelvie the quiet and knowledgeable leader behind the success of the 1999 hockey team.

Pat McReavy enjoyed a long hockey career which brought him three championships, the Stanley Cup, the Allan Cup and a World Hockey Title.
Paul MacDermid, born in Chesley Ontario, through hard work and determination enjoyed a 12 year NHL career, before keeping junior hockey alive in Owen Sound by working with a group citizens to purchase the Attack OHL franchise.

"Red" Armstrong, a fiery spirited hockey player, known more for his fierce checking than his scoring prowess surprised even himself on his first NHL shift.
Red Leckie was more than a good hockey player. He played for the team, not for himself. Outside hockey, he responded when he saw a need in his community.
Southampton hockey history in the early years featured a distinct line of defense in the local arena, and stories of interesting "road" trips.

Tommy Burlington: the Greatest North American Never to Play in the NHL captured scoring titles in every league that he played, bringing comparisons to NHL greats.

Owen Sound Hockey History is rich with stories of championship teams, star hockey players, and community support.