---
---
Doug Brindley:From Maple Leaf to Slap Shot
Doug Brindley:
From Maple Leaf Draft Selection
to Slap Shot
Doug Brindley: From Maple Draft Choice to a role in the movie, Slap Shot: a Memorial Cup champ; coached by Don Cherry; and he played in the WHA; what more could a Walkerton, Ontario native ask for in a hockey career?
Young boys like to dream about playing hockey with or against their favourite players. Either playing road hockey or in a backyard rink, dreams of the NHL and stardom playing Canada's game is very much a part of the mystique of the game. For one young lad growing up in Walkerton Ontario in the 1950s and 1960s these dreams became a reality that went one step further, all the way to Hollywood!

The second-round pick of the Toronto Maple Leafs in the 1969 NHL Amateur Draft. The 20th overall pick, Doug Brindley would only suit up with the blue and white for three NHL games and he would never record a single scoring point in the NHL. But he would have a role to play that would make him a part of hockey folklore.

Brindley was born in Walkerton, Ontario on June 8, 1949. He played minor hockey in his hometown. But the 1964-65 International Bantam Hockey tournament in Georgetown turned out to be an important event for the young hockey player with the Walkerton Bantam hockey club. Doug Brindley was named the tournament M.V.P. His play caught the eye of several hockey scouts.

Doug was drafted by the Niagara Falls Flyers and he split the 1965-66 season with the Flyers and the Stamford Hornets of the Niagara Jr. B Hockey League. The next season Brindley found himself back in his home region playing for the Owen Sound Greys. During the 1966-67 season he tied for the scoring lead on the Greys.

After his year of seasoning with the Greys he returned to the Flyers. In 1968-69 Brindley's team defeated Estevan for the Memorial Cup championship. His teammates on the Memorial Cup champion Flyers included future NHLers Phil Myre, Tom Webster, and future Toronto Maple Leafs Rick Ley and Brad Selwood. 

His 40 regular season goals and his 12 goals in the Niagara Falls Flyers' march to the Memorial Cup without a doubt were a large reason why the Maple Leafs drafted him. 

Doug spent the 1969-70 season playing for Toronto's farm club in Tulsa, Oklahoma. He notched 22 goals and 25 assists. To show that his rookie year in professional hockey had not been a fluke, Brindley improved his numbers to 29 goals and 38 assists the next season. His prolific scoring earned him a trip to the NHL. He skated with the Leafs for 3 games without registering a point.

The 1971-72 season found Brindley playing for the Rochester Americans after he had been traded to Vancouver for Andre Hines. At Rochester one of his team mates, and later the same season, his coach, was Don Cherry. In a 1997 interview, Doug recalled that Cherry was "always a gentleman" and he was a "good guy to help the new guy along" when they arrived in Rochester. Brindley said Cherry's coaching attitude was simply "it didn't matter who you were, there were no favourites on his team".

Probably because his NHL future looked cloudy at best, Brindley decided that he needed a change of hockey scenery. Doug signed with the Cleveland Crusaders of the World Hockey Association for the 1972-73 season. 

He played two seasons in the WHA netting 15 goals his first season and 13 his second term. Among his teammates in Cleveland was All-Star netminder Gerry Cheevers and former Toronto Maple Leaf farmhand and teammate Ron Ward.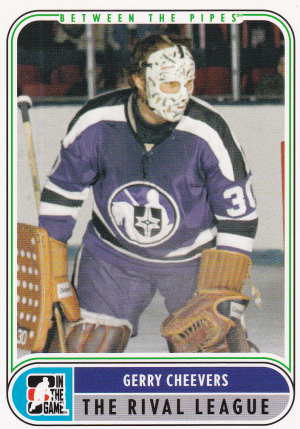 A highlight for Brindley in the WHA was that he got to play against two of his boyhood heroes, Bobby Hull and Gordie Howe! He said that both hockey legends were consummate gentlemen. However, even though he was in awe of Howe, Doug laughed saying that he quickly learned "to keep his head up in the corners" as those legendary Howe elbows were deadly!

Doug Brindley retired at the end of the 1976 season. However, he had another moment of stardom in his hockey career awaiting him. He was asked to play in the Paul Newman movie, Slap Shot. His role was that of a player for the villainous Syracuse Bulldogs. He reported that Newman was a nice person to work with and that Newman's hockey double was Rod Bloomfield, a hockey player from Owen Sound!

Doug Brindley's hockey talents took him a long way from his home in Walkerton. He played for the Toronto Maple Leafs and got to experience the coaching talents of Don Cherry first hand. His opponents included Bobby Hull, and the greatest player of all time, Gordie Howe. He had a role in a Hollywood movie and met Paul Newman. 

Doug Brindley really led a life that all young hockey players dream about!

A version of this story first appeared in my Sports History column in the Owen Sound Sun Times in March 1997. For more information about Owen Sound's hockey history, check out my latest hockey book, Journey Through Owen Sound's Hockey History.
More Great Information Pages
About Owen Sound Hockey History
The 1920s Owen Sound Hockey Stars made there mark in amateur ranks and then many of them went on to careers in the NHL and other professional hockey leagues.
The 1927 Owen Sound Greys with a priest serving as coach named Jack Spratt and not one experienced defenseman were an unlikely Canadian National Hockey Championship team.

Benny Grant: Memorial Cup Champ grew up in Owen Sound and enjoyed a hockey career, which included a surprising turn of events that led to a stint in the NHL.

"Buck" Jones, like most Canadian boys, dreamed of playing in the NHL. Little did he realize that one day he would wear the sweater of an NHL club and would be the idol of youngsters like himself!
The Chin Brothers dominated in their hockey league which drew attention from the Detroit Red Wings and the Toronto Maple Leafs.

Ralph "Cooney" Weiland skated from a Memorial Cup championship in Owen Sound, to a Stanley Cup in Boston to fame as a U.S. college hockey coach.
The Crescent Club has a long history of sponsoring sports teams and leagues in Owen Sound providing consistent management and financial assistance to athletics.
"Cyclone" Taylor was hockey's first superstar. Born in Tara Ontario, he was involved in a controversy in Ottawa which still has not been resolved.

Doug Brindley: From Maple Draft Choice to a role in Slap Shot: a Memorial Cup champ; coached by Don Cherry; and he played in the WHA; what more could a Walkerton Ontario native ask for in a hockey career?
The Durham Yellowjackets hockey team was a force to be reckoned with in Ontario Intermediate hockey in the 1930s.

Goalie "Red" Henry: An All-Star Netminder: Another great Owen Sound goalie who played for the love of the game.

"Hap" Day was a Hall of Fame hockey player, coach and general manager as well as a life-long Toronto Maple Leaf.
Norm Locking Chicago Black Hawks & Former Owen Sound Grey was known for his hard and deadly shot in Al Capone's Chicago.

Harry Lumley spent his Hall of Fame hockey career tending the nets for four NHL clubs and he spent one period of a hockey game goaltending for a fifth NHL team.
Henry Kelso: Owen Sound Sports Legend not only contributed to the sporting life of his students, he also had a significant influence on the rest of their lives.
Junior Hockey Commentary: Should there be controversy about the use of non-local hockey players? This article was written in 1998 in response to a letter to the editor in the Owen Sound Sun Times.
Meaford Knights Hockey: The 1953-54 Championship Knights' line-up had of several pairs of brothers. Many felt that the brothers made a winning difference.

Newspaper Sports: Owen Sound Hockey History was detailed in the pages of the Owen Sound Sun Times in detail in the days before the radio and television eras.
Owen Sound Hockey's early history some references suggest started in the 1880s. However there are records of organized hockey teams beginning in the early 1900s.

Owen Sound was a Hockey Hotbed in 1950-51: Their fans were hockey crazy during this OHA Senior A Championship season as their star-studded team marched to an Allan Cup victory.

The 1959-60 Owen Sound Greys: A Tough Act to Follow: Tragedy struck this hockey team of young men, yet they persevered.

The 1960s Owen Sound Greys Stars who went on to NHL action including Brian Perry, Doug Brindley, Jim Schoenfeld, and Jack Lynch brought Owen Sound a reputation as a hockey hotbed!
Owen Sound Attack: The arrival of this new OHL team is the latest chapter in the Owen Sound region's rich hockey history.

Owen Sound Goalies: Why does Owen Sound produce so many fine goaltenders? There must be something in the water! 
Some Great Owen Sound Greys. The history of this hockey team is a story of players who were not only local boys, but came from many locations to hone their skills.
Owen Sound Hockey Heritage stretches from rural farmhouses on Saturday night to backyard rinks to cheering for local hockey successes and hockey heroes.

Owen Sound Junior Hockey History began almost one hundred and twenty years ago and is rich with championship teams, great players, and dedicated fans. 
Owen Sound's New Arena in 1938 opened a new era in Grey and Bruce counties with the first artificial ice making machine in western Ontario north of Kitchener.
Owen Sound Platers: Ray McKelvie the quiet and knowledgeable leader behind the success of the 1999 hockey team.

Pat McReavy enjoyed a long hockey career which brought him three championships, the Stanley Cup, the Allan Cup and a World Hockey Title.
Paul MacDermid, born in Chesley Ontario, through hard work and determination enjoyed a 12 year NHL career, before keeping junior hockey alive in Owen Sound by working with a group citizens to purchase the Attack OHL franchise.

"Red" Armstrong, a fiery spirited hockey player, known more for his fierce checking than his scoring prowess surprised even himself on his first NHL shift.
Red Leckie was more than a good hockey player. He played for the team, not for himself. Outside hockey, he responded when he saw a need in his community.
Southampton hockey history in the early years featured a distinct line of defense in the local arena, and stories of interesting "road" trips.

Tommy Burlington: the Greatest North American Never to Play in the NHL captured scoring titles in every league that he played, bringing comparisons to NHL greats.

Owen Sound Hockey History is rich with stories of championship teams, star hockey players, and community support.