Owen Sound Goalies
Owen Sound Goalies: This Georgian Bay community has produced four goaltenders, one of whom is a Hockey Hall of Famer, and three others who starred in the minors because the NHL only carried one goalie on each of the six teams. A fifth gives every indication that he, too, will enjoy a career in the world's best hockey league.
The 1998-99 hockey season is an important time for Platers' goaltender Curtis Sanford. For the first time in his Major Junior career he is his team's number one goalie. His play will largely determine how well the Platers succeed this season. As well, his play will determine whether he is drafted by a National Hockey League team in the annual amateur draft. 
Curtis Sanford 2002-03 UD Rookie Card
Curtis is a native Owen Sounder and traditionally this community has produced more than its share of goaltenders for the ranks of professional hockey.This fact, no doubt, increases the expectations from many local fans about how Sanford plays.

The sport of hockey has a long and storied tradition in Owen Sound. The Greys, Orphans and Mercurys have all brought championships home to the shores of Georgian Bay. Many players from this community have enjoyed success in professional leagues across North America. However, there seems to be a unique phenomenon surrounding some of these players who achieved professional success. 

Owen Sound seems to have produced more than its share of top-quality goaltenders. Teams usually carry 9 to 12 forwards and 5 to 8 defensemen, but prior to the mid-1960s there was most often only one goalie. Many Scenic City skaters went on to professional ranks and that is not unusual. However, at a time when there were very few goaltending positions available in the ranks of professional hockey this community sent FOUR goaltenders to the top professional leagues.

Although he is not included among those who went on to success in the professional ranks it could be argued that Hedley Smith was the first goalie from this area to rank as dominant in that position. As a mere sixteen-year-old Smith, with a 2.70 goals against average, provided the stellar goaltending necessary to lead the Greys to this city's first ever Memorial Cup championship in 1924.

Owen Sound Goalies #1 Benny Grant
Three years later, Owen Sound captured another Memorial Cup title. However, Smith had been replaced in the Greys' net by a youngster named Benny Grant. Using his success in the national championship as a springboard to the professional ranks, Grant would become the first of the four outstanding goalies from this community to achieve the highest ranks of professional hockey.
In an era where teams used only one goaltender Grant found himself in a unique position. His rights were owned by the Toronto Maple Leafs, but they could not use him on their top team. However, instead of trading Benny, Leaf owner Conn Smythe preferred to keep him rather than have a rival team reap the benefit of his abilities. Grant played some games with Toronto. In 1930-31 he recorded two shutouts in seven games with the Leafs. In order to keep Grant sharp for the day he might be needed to tend the Leafs' net, Toronto loaned him to many different teams during the course of his career. Consequently, Grant played for many teams in various professional leagues. His feats in goal led to many all-star awards and in 1931-32 he was named the Most Valuable Player for the Syracuse Stars. During the Second World War Grant came out of retirement to play for the Toronto Maple Leafs.

Owen Sound Goalies #2 Harry Lumley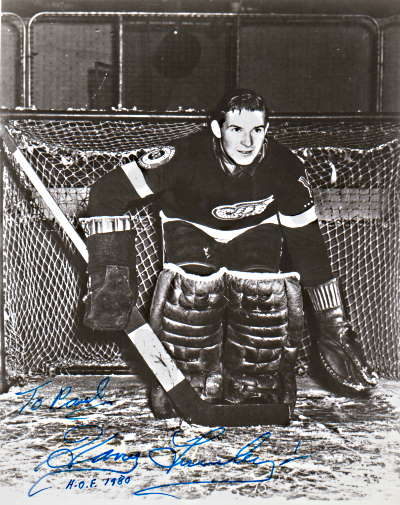 Shortly after Grant's final hurrah in the National Hockey League another Owen Sounder arrived on the professional hockey scene. Harry Lumley became the youngest regular goaltender in the NHL at the age of eighteen. Harry's career has been well-documented. He captured a Stanley Cup, won the Vezina Trophy as the League's outstanding goaltender and was the recipient of the prestigious J.P. Bickell Trophy as the most valuable Maple Leaf (NB this award is not given annually, unless the voters feel that the team has had a player worthy of such recognition.) Lumley also has received the highest accolade possible for a hockey player, induction into the Hockey Hall of Fame!
Owen Sound Goalies #3 "Red" Henry
At the same time that Lumley was beginning his career with the Red Wings another Owen Sounder was making his mark in the American Hockey League with the Hershey Bears. In the 1946-47 play-offs Gord "Red" Henry set an AHL record with five shutouts in his team's run to the league's championship. Because hockey teams only carried one goalie at that time Henry played most of his career in the AHL. On the occasions that he played for the Boston Bruins he was outstanding. His first NHL game was against "Rocket" Richard's vaunted Montreal Canadiens. Unnerved by the circumstance "Red" recorded a shutout!

Henry had many other opportunities to play in the NHL and each time he responded with a stellar performance. Despite the fact that he played most of career in the AHL Henry's career was a huge success. The owners of the Hershey Bears recognized that they had one of the best goalies in professional hockey and they rewarded him as such. According to his brother-in-law Bill Williams, Gord was a celebrity in Hershey!

Owen Sound Goalies #4 Les Binkley
During the time that Lumley and Henry were dominating their hockey leagues a young Owen Sounder was watching the exploits of his heroes and practicing his skills in the Owen Sound minor hockey system. In 1950 Les Binkley left his home town to play hockey for Chicago's junior franchise, the Galt Black Hawks. After a three-year junior career Binkley played hockey in several different leagues. In every league he received accolades for his brilliance in net. However, the system of one per team blocked his path to the NHL. Finally, NHL expansion to twelve teams opened the door to the NHL.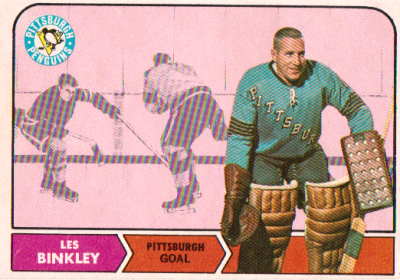 Les Binkley 1968-69 OPC Rookie Card
Binkley was one of the first players signed by the Pittsburgh Penguins. He played five seasons in the NHL and he set the Penguins' record for most career shutouts (11) and shutouts in a season (5). Les Binkley finished his career in the World Hockey Association.

Will Curtis Sanford continue the tradition established by Grant, Lumley, Henry and Binkley? Only time will tell. However, it is interesting to consider that the position of goaltender in hockey is unique. Very few goalies are needed to fill the needs of professional hockey teams. Yet this community has provided many more goalies to professional ranks than many would consider the usual.

Jamie Storr 1993-94 UD World Junior Championship Rookie Card
Kevin Weekes 2003-04 Carolina Hurricanes
This phenomenon increases when one considers that besides these native Owen Sound goalies three Platers' netminders, Jamie Storr, Kevin Weeks and Brent Johnson, have also made their mark in professional hockey. Why does Owen Sound produce so many fine goaltenders? There must be something in the water!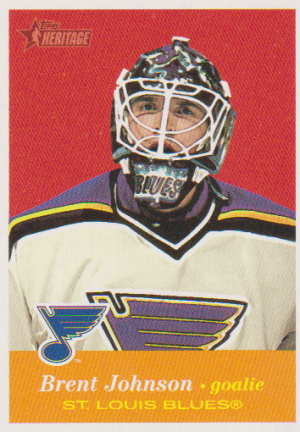 Brent Johnson 2001-02 St. Louis Blues
A version of this article first appeared in the Owen Sound Sun Times Almanac, the 1998 edition.
More Great Information Pages
About Owen Sound Hockey History
Benny Grant: Memorial Cup Champ grew up in Owen Sound and enjoyed a hockey career, which included a surprising turn of events that led to a stint in the NHL.

"Buck" Jones, like most Canadian boys, dreamed of playing in the NHL. Little did he realize that one day he would wear the sweater of an NHL club and would be the idol of youngsters like himself!
Owen Sound Hockey Heritage stretches from rural farmhouses on Saturday night to backyard rinks to cheering for local hockey successes and hockey heroes.

Ralph "Cooney" Weiland skated from a Memorial Cup championship in Owen Sound, to a Stanley Cup in Boston to fame as a U.S. college hockey coach.
Doug Brindley: From Maple Draft Choice to a role in Slap Shot: a Memorial Cup champ; coached by Don Cherry; and he played in the WHA; what more could a Walkerton Ontario native ask for in a hockey career?

Goalie "Red" Henry: An All-Star Netminder: Another great Owen Sound goalie who played for the love of the game.

"Hap" Day was a Hall of Fame hockey player, coach and general manager as well as a life-long Toronto Maple Leaf.
Harry Lumley spent his Hall of Fame hockey career tending the nets for four NHL clubs and he spent one period of a hockey game goaltending for a fifth NHL team.
Henry Kelso: Owen Sound Sports Legend not only contributed to the sporting life of his students, he also had a significant influence on the rest of their lives.

The 1959-60 Owen Sound Greys: A Tough Act to Follow: Tragedy struck this hockey team of young men, yet they persevered.

Newspaper Sports: Owen Sound Hockey History was detailed in the pages of the Owen Sound Sun Times in detail in the days before the radio and television eras.

Owen Sound Goalies: Why does Owen Sound produce so many fine goaltenders? There must be something in the water! 
Owen Sound Platers: Ray McKelvie the quiet and knowledgeable leader behind the success of the 1999 hockey team.

Junior Hockey Commentary: Should there be controversy about the use of non-local hockey players? This article was written in 1998 in response to a letter to the editor in the Owen Sound Sun Times

Pat McReavy enjoyed a long hockey career which brought him three championships, the Stanley Cup, the Allan Cup and a World Hockey Title.
Owen Sound Junior Hockey History began almost one hundred and twenty years ago and is rich with championship teams, great players, and dedicated fans. 

Owen Sound's New Arena in 1938 opened a new era in Grey and Bruce counties with the first artificial ice making machine in western Ontario north of Kitchener.
"Red" Armstrong, a fiery spirited hockey player, known more for his fierce checking than his scoring prowess surprised even himself on his first NHL shift.
Some Great Owen Sound Greys. The history of this hockey team is a story of players who were not only local boys, but came from many locations to hone their skills.

Tommy Burlington: the Greatest North American Never to Play in the NHL captured scoring titles in every league that he played, bringing comparisons to NHL greats.

Owen Sound Hockey History is rich with stories of championship teams, star hockey players, and community support.