Owen Sound Junior Hockey History: The Early Years
Owen Sound Junior Hockey History began almost one hundred and twenty years ago and is rich with championship teams, great players, and dedicated fans. From the very beginning, the Greys were a potent force on the ice in Ontario junior hockey play.
Owen Sound is fortunate to have two junior hockey franchises. Lately, the OHL team, the Attack has dominated the news and sports reports. But the other team, the Greys have a long and storied junior hockey history in this area. In 1924 they captured this community's first Memorial Cup. Three years later, in 1927, they repeated as national junior champions. There have been many hockey players who went on to play in the National Hockey League after playing for the Greys.

Junior hockey history began in Owen Sound in 1903, or 1904, depending on which historical documents you research. Each season the Owen Sounders made a run at the O.H.A. title, but they fell short. The problem, it seems, was not on the ice, but in the offices of management!  

Some seasons the management team that operated the team was moderately efficient. But in the other years there were serious problems with the way the team was handled. This lack of good management often led to conflicts with the O.H.A. However, just before the beginning of the First World War dramatic steps were taken in Owen Sound to ensure that the junior club was given good management.

It was the players who took the initiative. They called a meeting at the YMCA. Those in attendance included the players, interested hockey enthusiasts and businessmen. As a result of this meeting, an organization was formed to run the operations of the junior club. J.C. Telford was elected President, J.J. Gilchrist was the vice-president and Sandy Grant was named the manager. Ironically, Grant's son, Benny, would play goal for the Greys and lead them to the Memorial Cup in 1927.

A few days after the inaugural meeting, one of the players, Webster Butchart, approached Gilchrist with an idea. Bill Hancock, who had a reputation as an outstanding referee, had taken a job with an Owen Sound tailor, and Butchart suggested that he might be the ideal choice for the position of coach of the junior club.

After some discussion with other players and executive members Hancock was approached about taking the coaching position. His acceptance marked the beginning of a long relationship between Bill Hancock and junior hockey in this community.

According to Gilchrist's memoirs, it was Hancock who dubbed the Owen Sound junior hockey team as the Greys. In honour of their new name the Greys took up new uniforms which consisted of gray sweaters and stockings with a red band.

Hockey fans looked forward to great things from the new junior hockey team with its new management, new coach, new name and flashy new uniforms. However, this enthusiasm had to be put on hold. Because of the outbreak of the First World War, the junior club ceased operations until the end of the war.

When the war ended the Greys took to the ice. Within a few short years they had climbed to the pinnacle of junior hockey supremacy in Canada. In the 1920s, news that the Greys were coming to town struck fear into the hearts of opposing teams. Names like Keeling, Locking, Weiland, and Grant were known not only in Grey and Bruce, but throughout southern Ontario. And, those stars would lead the Greys to not one, but two Memorial Cups as they claimed the national junior hockey title in 1924 and again in 1927.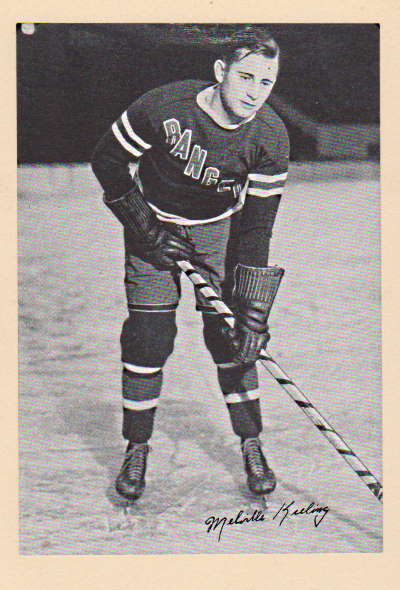 Former Owen Sound Grey Mel "Butch" Keeling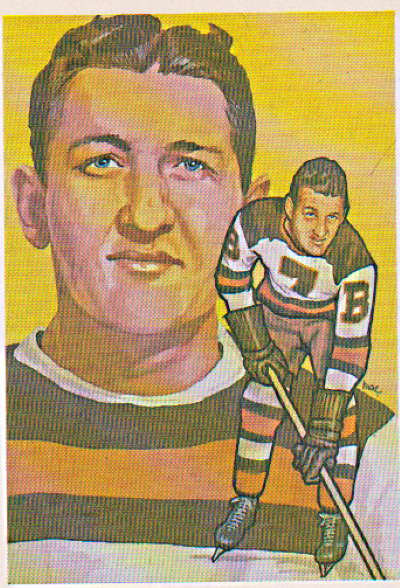 Former Owen Sound Grey "Cooney" Weiland
A version of this story first appeared in my Local History column in the Owen Sound Sun Times.
More Great Information Pages
About Owen Sound Hockey History
Benny Grant: Memorial Cup Champ grew up in Owen Sound and enjoyed a hockey career, which included a surprising turn of events that led to a stint in the NHL.

"Buck" Jones, like most Canadian boys, dreamed of playing in the NHL. Little did he realize that one day he would wear the sweater of an NHL club and would be the idol of youngsters like himself!
Owen Sound Hockey Heritage stretches from rural farmhouses on Saturday night to backyard rinks to cheering for local hockey successes and hockey heroes.

Ralph "Cooney" Weiland skated from a Memorial Cup championship in Owen Sound, to a Stanley Cup in Boston to fame as a U.S. college hockey coach.
Doug Brindley: From Maple Draft Choice to a role in Slap Shot: a Memorial Cup champ; coached by Don Cherry; and he played in the WHA; what more could a Walkerton Ontario native ask for in a hockey career?

Goalie "Red" Henry: An All-Star Netminder: Another great Owen Sound goalie who played for the love of the game.

"Hap" Day was a Hall of Fame hockey player, coach and general manager as well as a life-long Toronto Maple Leaf.
Harry Lumley spent his Hall of Fame hockey career tending the nets for four NHL clubs and he spent one period of a hockey game goaltending for a fifth NHL team.
Henry Kelso: Owen Sound Sports Legend not only contributed to the sporting life of his students, he also had a significant influence on the rest of their lives.

The 1959-60 Owen Sound Greys: A Tough Act to Follow: Tragedy struck this hockey team of young men, yet they persevered.

Newspaper Sports: Owen Sound Hockey History was detailed in the pages of the Owen Sound Sun Times in detail in the days before the radio and television eras.

Owen Sound Goalies: Why does Owen Sound produce so many fine goaltenders? There must be something in the water! 
Owen Sound Platers: Ray McKelvie the quiet and knowledgeable leader behind the success of the 1999 hockey team.

Junior Hockey Commentary: Should there be controversy about the use of non-local hockey players? This article was written in 1998 in response to a letter to the editor in the Owen Sound Sun Times

Pat McReavy enjoyed a long hockey career which brought him three championships, the Stanley Cup, the Allan Cup and a World Hockey Title.
Owen Sound Junior Hockey History began almost one hundred and twenty years ago and is rich with championship teams, great players, and dedicated fans. 

Owen Sound's New Arena in 1938 opened a new era in Grey and Bruce counties with the first artificial ice making machine in western Ontario north of Kitchener.
"Red" Armstrong, a fiery spirited hockey player, known more for his fierce checking than his scoring prowess surprised even himself on his first NHL shift.
Some Great Owen Sound Greys. The history of this hockey team is a story of players who were not only local boys, but came from many locations to hone their skills.

Tommy Burlington: the Greatest North American Never to Play in the NHL captured scoring titles in every league that he played, bringing comparisons to NHL greats.

Owen Sound Hockey History is rich with stories of championship teams, star hockey players, and community support.